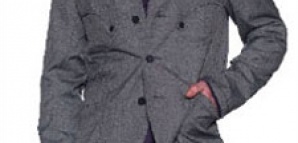 In terms of style, it's often the most carefully kitted chap who looks the most...boring.

Then there's the new Los Angeles-based menswear line K.Z.O, birthed in Downtown's Little Tokyo. The pieces range from classy to casual to out-there (some might be considered all three), but upon closer inspection you'll quickly elevate the line to one-to-watch status.

In both the debut spring collection and the imminent, more focused fall/winter collection, designer Joel K fuses a California-casual vibe with a more forward-minded Tokyo edge—which isn't all that surprising, considering he's a Golden State native of Japanese (okay, and German) descent.

But what is surprising is the sophisticated level of construction he brings to fall items like the thermal cardigan, brown tweed shirt with leather details, and slim gray slacks with hidden pockets. (You've always said tweed and leather are perfect bedfellows.) No matter the fabrics, though, you'll likely see flattering cuts, some striking asymmetry...and some meandering seams in unexpected places. And if you're asked about the name, you can wow your inquisitor with the fact that K.Z.O is the shortened form of the word "kazuo," which means "peaceful man."

Peaceful often, enlightening always.