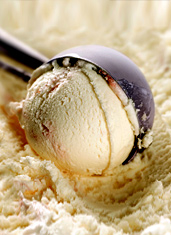 It's 90 today. Again. And it's not yet August.
There's only one thing to do: go all James Bond villain and build an ice palace.
Or, failing that, join a top-secret ice cream fraternity.
It's time to say hello to the
Ice Cream Club
, a secret society dedicated to supplying you with the cold stuff during the dog days, now taking members.
In short, you'll get a weekly supply of fresh, creamy goodness, but only you and a few specially chosen other members will know where to pick it up. Here's how it works: you'll email the ice cream man, who used to be a chef at Bibiana and Equinox, and now presides over an industrial ice cream maker in his Logan Circle house. (That old story.)
Each week throughout August, within 48 hours of when the guy finishes his latest batch, you'll get an email giving you the week's flavors, and the pickup time at his place. You'll get six small containers—two buckets each of two flavors of ice cream and one sorbet.
The flavors remain undisclosed (though we hear Gates has clearance), but we have it on good authority he's been raiding local farmers' markets for the raw materials—stuff like
Cherry Cardamom
and
Nutella
. He's even working on an ice cream that you can use as the basis for a cocktail.
Ice not required.