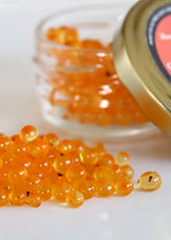 Bacon and eggs will always be there for you.
And even with that steady devotion, it's okay to still expect to be wowed every so often...
So allow us to introduce
Bacon & Eggs Caviar
, an infused, flavored twist on one of the most luxurious delicacies of the modern world, available now.
Technically not caviar (which is made with sturgeon roe) in the strictest sense, Bacon & Eggs incorporates the sturdier trout roe and infuses it with bacon to create a smoky fresh-from-the-sea morsel reminiscent of lox—making it the ideal accompaniment to your morning bagel and cream cheese.
Of course, you won't want to stop there. We say, scoop it on anything where you'd put bacon—like your next burger or oysters, or even your next California roll. If you're thinking trout roe is a downgrade from sturgeon, you should know that it's bigger, which means more room to pack in that all-natural, applewood-smoked bacon pop your beluga has always been missing.
Since it's highly perishable, you can call up the Marina-based producer, and they'll hand-deliver anything from an ounce jar to a pound tin to you in the Bay Area that day—or the next, at the latest.
Rack it up as yet another win for bacon.