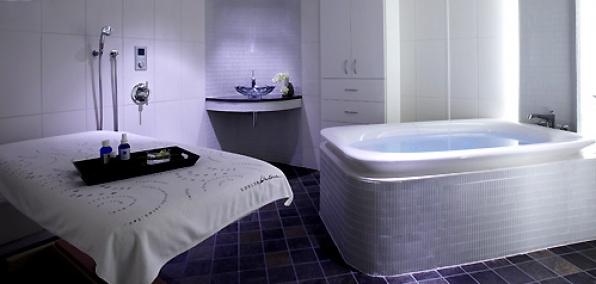 Here's the scenario: You're naked. You're wet. And there's a low, sustained bass note rumbling through your body, penetrating you to your very core (and other parts).
Now, there are two possible explanations:
Option 1: You bathe by driving a convertible through a car wash while blasting Barry White.
Option 2: You're in Wisconsin.
We'll just pretend there's only Option 2. Welcome to the just-opened
Acoustic Room at the Kohler Waters Spa
, now ready to sonically soothe your aching spirits into oblivion.
To get a sense of what to expect, imagine a Wisconsin Dells water ride inside a Sedona, Arizona, resort. Basically, it's a high-tech bathtub with the hitherto-unharnessed power of piped-in underwater music and low-frequency sound vibrations to create an all-over body massage.
So after a grueling day of golf, when you need to recharge before a big night of big steaks at the American Club, you'll check into the spa. You, fully terryclothed at this point
(and fresh from a caviar facial), will be escorted to the private Acoustic Room, where your bath awaits.
As you dip in, colored lights swirl, relaxing music takes hold of you—and then you feel it. Your entire body is being kneaded from the inside out via the power of sound waves traveling through water.
It's like a million dolphins are thinking only about you.