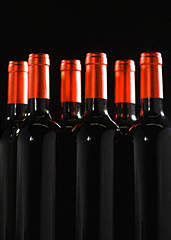 You've never had a real chip in the wine game.
Sure, you've placed some interesting bets, sipped Assyrtiko from the volcanic island of Santorini and even sampled the full swath of exotic Long Island varietals.
But the time has come to prove you're dead serious about fermentation.
Introducing
Enlightenment Wines CSA
, the state's smallest legal winemaker, now offering you a piece of the action with a guaranteed ROI of 12 bottles delivered to your door four times a year.
All you need to do to get involved is register through the winery's website and await your first delivery, scheduled for just a few weeks from now. But don't expect any of the cabs, pinots or other Napa standards that fueled your earliest cheese pairings.
Actually, forget about the grape entirely. Enlightenment only deals in sparkling wines, handmade using old-school methods, from Hudson Valley apples and honey. And while it's understandable that such ingredients might leave you fearing an overly sweet, cider-esque weirdness, we think you may be a little surprised by the vino—it's crisp, it lives up to its 12% alcohol pedigree, and it has all the inhibition-lowering effects of your favorite bottle of Barolo.
And should you have strong feelings about flavors you'd like to see added to the wine (they're constantly tinkering and adding things like currants, cherries and dandelions), you can send in recipe suggestions that the other investors will receive, and then rate you genius or madman.
Of course, truly great wine is often misunderstood in its own time.