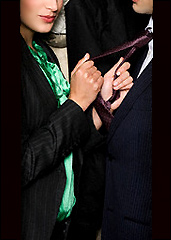 Just a few more days' work and a couple of layovers—your next great summer vacation is so close you can taste it.
And it would be awesome if your luggage were just there waiting for you, like magic.
Here to help is an esteemed wardrobe butler called
Garde Robe
. It's just expanded to Los Angeles.
Basically, if you call up Garde Robe, the contents of your closet are no longer confined to your closet. They'll come to your place, take away the things you hardly ever need—the wedding tux, winter sweaters, designer werewolf costume—and store them in a high-security loft. When it's close to trip time, just visit your new virtual closet (everything's been photographed and put online for you) and they'll ship whatever you need to wherever you're going. No checking bags, no delays in customs.
Once your trip is over, they'll make the arrangements for everything to be sent back to storage, cleaned up and ready for next time.
And Garde Robe could come in handy even if you're not planning any trips—like if you just want to free up some closet space for a few summer wardrobe additions.
And a wet bar.