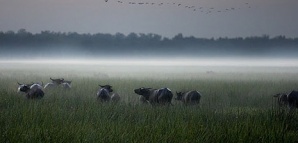 The Outback's been waiting for this...OK, and so have we.

With hopping wallabies, glittering floodplains and endless skies, the Australian wild has long fascinated those with a taste for the unusual (that's you). But Rupert Murdoch's guest house aside, there's never been a high-end way in.

Until now.

The new Bamurru Plains, an exclusive villa camp nestled in the Northern Territory, is the biggest thing to hit Australia since convicts. In the African safari tradition, Bamurru makes the natural life impossibly comfortable—think oversized beds and drenching rain showerheads. And with only nine private, stilt-mounted villas, the run of the Outback (and the g'day mate Aussie service) is practically all yours.

After waking to the cackling call of the kookaburra, you'll speed across the wetlands in a fan-powered airboat, then explore the untouched landscape via four-wheel drive amongst herds of dingos and wallaroos and buffalo (oh my). Back at the lodge, it's not just shrimp on the barbie; the five-star cuisine ranges from kangaroo to crocodile canapés. And after hours at the open bar, you can linger by the infinity pool with a local Shiraz as long as you like.

Proving that even the most remote parts of Down Under can still be on the up and up.