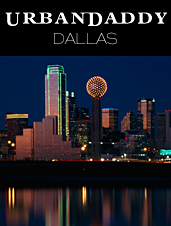 We told you this would happen.
And now, the moment is so close we can taste it: in just a few weeks, we'll gracefully swan dive into the treacherous waters of Uptown socialites and brisket tacos that is Dallas.
Post-floatie inflation, of course.
Allow us to formally introduce
UrbanDaddy Dallas
, your new must-have playbook for everything of the utmost importance in the Big D.
Our sole mission, as we mentioned before: tackling every interesting experience in this colossal stadium we call home, and living to tell you about it. Once a day, you'll get a quick hit of knowledge about a new rooftop tequila lounge in Deep Ellum, a members-only wine bar on Henderson, or an underground bocce club filled with real-estate moguls and the high-heeled fashionistas who love them... and bocce.
We're filtering out the unnecessary and the overexposed to bring you exactly what you need to know when you're out in the epicenter of the Lone Star State. And if that means sampling a few flaming mambo taxis or venturing into a Saint-Tropez-inspired pool party in Uptown—well, we are happy to put in the time.
And to commemorate this momentous event, when you sign up you'll get a chance to win a luxury viewing party in Hotel ZaZa's massive Rock Star Magnificent Seven Suite (expect crushed velvet) for you and nine of your friends during the Dallas Cowboys season opener on September 12 against the Redskins.
Because Cowboys cheerleaders have to sleep somewhere.