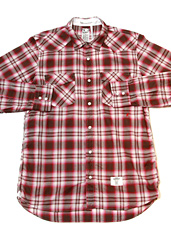 Let's hear it for those brawny-shouldered, tough-minded folks who embody this town's hard-nosed, no-nonsense work ethic. The Sandburgs. The Roykos. The Paytons. You.
And, of course, Morrissey. As in, the guy from the Smiths. That Morrissey.
Introducing
Saint Alfred x Bedwin & The Heartbreakers
, clothing inspired by equal parts British '80s music and American blue-collar workwear. As you might have guessed, it's from Tokyo.
Consider it the sartorial equivalent of a salty British pub located in Harajuku. It's a collaboration with the Wicker Park shop, and based on Bedwin's Rusholme Ruffians line. Long story short: it's named after a Smiths song about Britain's working-class summer carnivals, filled with saucy shopgirls and greased-up street toughs—basically, very similar to your Taste of Chicago sonnets.
These are the kind of duds you need when you're engaged in the hard work of wrangling up beers or commandeering the jukebox at some sweaty Logan Square dive. You'll find sturdy rancher jackets, Western-style pearl-button plaid shirts and Dickies work pants embellished with blue herringbone—sort of Morrissey by way of Wilco.
But look closely. Each of the pieces has four exquisitely embroidered tiny red stars somewhere on it as a nod to the Chicago flag.
That's worth a salute.