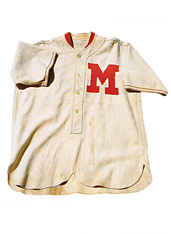 The Giants looked great out on the field this week.
Of course, that 15-2 win had a lot to do with it.
And with the All-Stars in Anaheim next week, the home stretch of the season looming and the World Series not that far behind, you'll want to make sure you look sharp out there as well.
But you've never really been a wear-a-jersey-to-the-game type...
Enter
Ebbets Field Flannels
, a site selling custom replicas of vintage baseball gear dating back to the 1880s that may make you rethink the jersey, taking orders now.
Unless your great-grandfather passed a jersey down from his old days bumming around the Pacific International League, you probably haven't laid your hands on flannel this aggressively vintage and American.
There are a healthy number of non-MLB nuggets from teams you may or may not know about, including the Pacific Coast League's San Francisco Missions and Joe DiMaggio's Seals, or even the Oakland Oaks. Of course, if you're not stuck on SF, there's the Pittsburgh Stogies or Boston Beaneaters (precursor to the tougher moniker of the Atlanta Braves).
And if you're still not ready for a jersey, there are wool caps from every imaginable old team and grounds crew jackets from bygone stadiums.
It's all about the grounds crew.