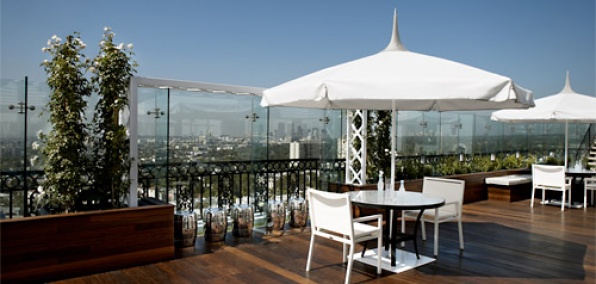 Gloomy day today.

This should brighten it: one of the Sunset Strip's most glamorous private rooftops has finally gone public. Available for your next blissfully panoramic dinner: the Gordon Ramsay at the London Rooftop, now serving 10 floors above the Strip.

Despite its location, this is a relatively quiet, off-the-radar spot to take that date who's been to all the latest hot spots—but still wants something new.

Stepping in, you'll want to skip the first-floor dining room in favor of the hotel elevator. Press the button for the rooftop, and a few moments later you'll be met with a sprawl of glass walls, roaring fires and only-on-the-Strip views all the way to Downtown and beyond.

Between rounds of vodka and sweet nothings, summon over some Prosciutto and Ricotta Pizzettes and Black Cod Sake Miso (and don't worry about hearing too many shouts from the kitchen—the namesake chef is no longer affiliated with the restaurant named after him).

One more thing: if for some reason you happen to find yourself still at the hotel for lunch the next day (rooftops are the ultimate aphrodisiac), they've also got a new rooftop lunch menu with Calamari Salad and Short Rib Tacos.

There's nothing like a short rib taco with a view.