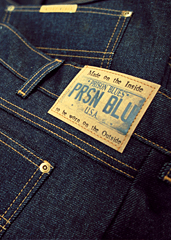 Cash. Sinatra. Lohan.
All have one thing in common: an undying love of decoupage. Also, they've all seen the inside of the clink.
And as of now, so have the people making your jeans...
Introducing
Prison Blues
, a line of denim made by prisoners in Pendleton, Oregon, available online now.
We are not kidding: this line of jeans is made by actual prisoners in an actual jail in actual Oregon. (Which, perhaps, takes Made in America to new levels.) Basically, all Oregonian inmates must be employed by law, and some of those men work in a 47,000-square-foot factory devoted to making jeans. It's like
Cool Hand Luke
, only with fewer eggs.
Which makes for a nice story, but you'll be happy to know the jeans hold up their end of the bargain—suitably rugged, suitably handsome, suitably... blue. And on each pair, in the back, is a tag—which looks, not coincidentally, like a license plate—stating that each pair is "made on the Inside to be worn on the Outside."
And we suspect each pair will last you 10 to life.