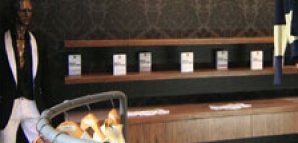 It often helps to look at things in a new light. Or just light.

While we've been graced with the presence of British menswear designer Andrew Buckler's eponymous store in the MPD for the last few years, the space is quite literally underground. (And the style sort of matched).

Starting tomorrow, however, Buckler opens his second New York outpost, this time in Soho, and this time on the ground floor in a much more clean, modern and naturally lit space. Walking in to the two-floor brick (painted black), tin (painted white) and wood (au natural) store, you'll notice that the unfettered design seems to be following the transition of the brand.

Originally a denim brand based on Buckler's admiration for the classic American tough-guy icon, Buckler has transitioned into a full menswear line with suiting, swimwear, cardigans, footwear and boxer briefs tattooed with the words "sexy bastard" on them. The Americana is still there, but there's more of a refined British edge now.

Except for those boxer briefs, of course.