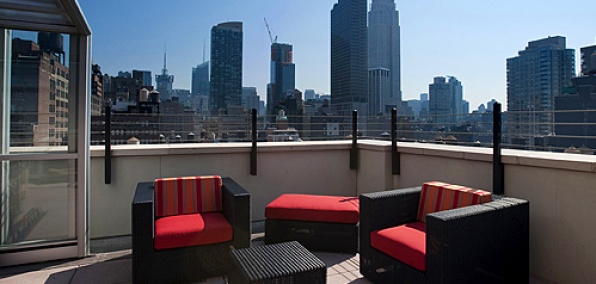 You're back.
Welcome. And don't worry. It's natural to be feeling some nostalgia for the past.
Even if the past was just yesterday.
But we're here to remind you that your summer in the sun has only just begun. Exhibit One: the new
Rare View
rooftop lounge.
Opening this week atop Chelsea's Fashion 26,
a crash pad for overworked models
, Rare View is your newest vista for
ice-cold cocktails
and panoramic scene making, opening this Friday.
Stepping onto the wraparound roof for after-work cocktails in the sun, the first thing you'll notice—other than the preponderance of sun—is the deep smell of cedar. That would be the bar, designed like a sauna if saunas were draped in hanging foliage, dangling lightbulbs and impromptu sunset photo shoots. It's here where you'll be carrying an entire watermelon, honeydew or pineapple back to your table, weighed down with an infusion of pure booze and icy sorbet (sort of like rooftop air-conditioning, but sweeter).
And if the sweeping views of the city are a little too... sweeping for you, the roof has two old-school viewfinder telescopes to help you zoom in on surrounding buildings, the distant Hudson River and the street below.
Don't drop the watermelon.