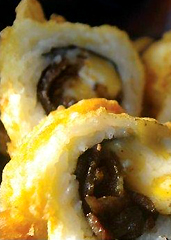 You made it through. The holiday weekend is here, and you're starving for some all-American invention.
Like maybe some cheeseburger sushi.
You'll find it at the new
Yatta Truck
, now rolling through our city.
First of all, you should know that not all their stuff is that mind-blowing. If you want some basic sushi, you can have your tuna, or a veggie number filled with cucumber, radish and avocado.
But if you're looking to amp up the creativity on your lunch break, they've got items like the
Sweet Aloha Roll
(it's Hawaiian barbecue and pineapple). You can even build your own roll by pulling out colored sticks from a jar (each color represents an ingredient, like eel or avocado... it'll make more sense when you get there).
And then there's that showstopper of a burger that's not a burger: the
All-American Roll
, a deep-fried gem with a core of beefsteak, pickle and melted cheese. Four pieces are $3.75, or you can supersize it and get eight for $7.
If you love your country, you'll supersize.