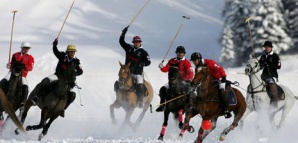 You might have figured St. Moritz had, like you, already reached the epitome of classy. But add a polo tourney, and it's a whole new ballgame—er, match.

The Cartier Polo World Cup on Snow brings the world's poshest sport to one of Europe's poshest resorts. Fabled St. Moritz, paragon of Alpine luxury, rests beside a lake of the same name, frozen over for the season. And it's on this icy expanse, high in the Engadine Valley, that Cartier gathers polo notables and devotees for the sport's only lake-top tournament.

The competition is fierce: 16 players, 4 teams and 4 days of mallet-swinging combat. And on the frosty playing field, it's never predictable. (Think broomball—with horses.) But, since polo has always been about society, the real spectacle is off the rink—from the beau monde in the stands to the après-polo scene.

After the matches, head to the five-star Badrutt's Palace Hotel for champagne and jazz in the Grand Hall and dinner at the resort's own Nobu. Finally, make an appearance at King's Club, underground center of St. Moritz nightlife and favored haunt of Kate Moss for its top Euro DJs and endlessly deferred last call.

But you might want to leave the horse outside. This palace has room for but one stallion.