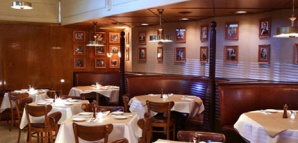 You've never bought into that "too much of a good thing" concept.

So it is with cheery déjà vu that you welcome Little Dom's, the new Eastside brother of the West Hollywood institution Dominick's.

When you step onto the apparently pre-scuffed wood floors to see the old photos and mismatched knickknacks, you'll feel like you're revisiting an old favorite.(Co-owner Warner Ebbink loves the thrill of the hunt for antiques; even the barits elf was salvaged in Pennsylvania.)Though the vibe and menu riff on the original, whose reputation ensures your goodwill, you are in fact in new territory.

Dinner at the bar or in one of the half-moon booths in the (relatively) more formal main room mixes Italian-American comfort favorites from the Dominick's menu with new options for the Eastside—you might try Spaghetti and Meatballs or Prosciutto, Bresaolo and Coppa with Mascarpone and Sweet Pickled Cherry Peppers.

But soon, unlike its ancestor, Little Dom's will embrace the all-day-to-all-people mentality, starting with Lemon Ricotta Pancakes in the morning and panini for lunch. And like Russian nesting dolls, this offshoot will soon birth an offshoot of its own—an adjacent deli for an espresso or some serious salumi.

Consider it a New York-style corner spot that's lacking on most L.A. corners.