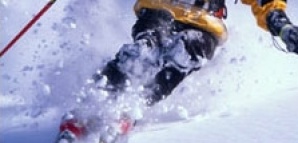 Apparently, winter weather isn't coming to you this year.

So with the three-day weekend upon us, you could use a few well-placed minions to help you find your way to a little snow. And maybe a hill or two...

For these cases we bring you: Liftopia, the first website that applies the same principle behind online reverse-auction airline tickets to lift tickets. So you get great deals on lift tickets, sortable by date, proximity to your city and, of course, up-to-the-minute weather updates so you won't end up a victim of global warming.

If it reminds you of a travel website or two, don't be surprised. The site was started by a pair of Expedia employees who decided there's more to life than just discounted rental cars. We've had them on our radar for a while, but they're now starting to get some momentum. They currently have partnerships with over 40 resorts, and with extra deals in the works with major resorts out west, in Canada and in New Hampshire, they're looking to double that number by the time next winter rolls around.

Just like Expedia, the deals are constantly changing, but a quick scan of their site yields some pretty good gems, like $9 day tickets at Wildcat Mountain in New Hampshire or $26 tickets at Windham Mountain in New York.

A small price to pay for a little powder.