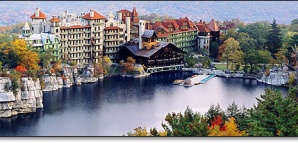 We love the city, but let's face it, we love leaving it even more. Hence Get Out of Dodge, which periodically hooks you up with the best weekend getaways just a short skip away. Get going...

We love a castle as much as the next guy. We do not, however, love the idea of a dry (as in no booze) resort. So the Mohonk Mountain House, on our radar for some time, has always been off limits. Until now.

For over 100 years you could scarcely go near one of the country's most breathtaking castle resorts, for the simple reason that there wasn't a drink to be found anywhere on its 2,200 acres. The Mohonk Mountain House, a National Historic Landmark located 90 miles north of Manhattan in the Shawangunk mountains, recently, and very quietly, opened its very first bar, the Carriage Lounge.

The imposing Victorian stone structure and sprawling grounds feature 140 fireplaces, 125 gazebos, incredible gardens, a golf course, an ice-skating pavilion with a 40-foot hearth at one end, riding stables, tennis courts and its very own lake surrounded by dramatic cliffs (even more dramatic when you've had something to drink).

The Quaker family who founded it were strict teetotalers; though they finally relented on that front, they've held on to other more sensible traditions such as requiring gentlemen to wear jackets during dinner. The place still has some way to go toward joining the 21st century, although last year they did add a 30,000-square-foot spa with an indoor pool, an outdoor heated mineral spring, massages, a solarium and even more fireplaces.

Between that and the booze you should manage to keep warm enough, even in winter.