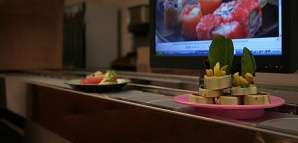 Lunch, by all accounts, is the most inconsistent meal of the day. One day you're throwing back three martinis and the next you're getting by on a quick-and-dirty sandwich from the corner deli.

Allow us to introduce you to an in-between option: the businesslike, robotic pleasures of conveyer sushi at Sakae Sushi, opening Friday in Midtown.

Already famous throughout Southeast Asia for their brand of mechanized goodness, Sakae's main attraction is a 97-foot conveyor belt that curls around the length of the room (minus a short break for fire safety). All the booths are alongside the conveyor, and if you see something you like, well, you just take it. The plates are color-coded by price, and the selection is vast, with variety and efficiency winning out over Masa-level standards—an acceptable tradeoff during the lunchtime crush.

If you like your robots a little more colorful, turn your attention to the interactive menu via the flat screen TV in front of the conveyor and the mouse tucked in next to your chopsticks. Choose from any of the treats on the belt, as well as a few pages worth of sashimi, hot dishes, bento boxes, beer and sake, all presented in the full color pictures you've come to expect from anything with a power cord.

Of course, there are still paper menus and a live wait staff for the prehistorically inclined.

But that's just inefficient.