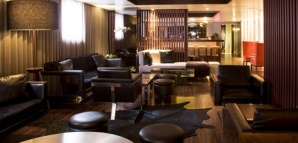 Some things in life are blatantly obvious.

Like your impending visit to BondSt, the bifurcated restaurant and lounge now open inside the new Thompson Beverly Hills hotel.

The same hotel group has bankrolled some of your more debaucherous nights gallivanting around the Roosevelt—and they've always kept their mouths closed about what they saw. But things should stay fairly civil to start as you enter the restaurant just past the lobby. Once seated in the main corridor or on the walled-in patio, you'll try the expected sushi rolls or more adventurous choices like Spicy Crispy Shrimp with Yuzu Calamanci Vinaigrette and Chipotle Aioli.

But if you head from the lobby straight for the stairs, you'll find a cozy, secret-feeling lounge tucked away on the second floor (pictured) that lends itself to saucier behavior. You'll recognize the modern-rustic décor as the work of the omnipresent mega-designer Dodd Mitchell, though the low ceilings and vaguely illicit background—the hotel used to be a Best Western—conspire to lend a speakeasy feel. If you prefer to get some work done over your Gin Basil, step through the French doors to a private conference room that's lined with smutty art books to combat any unnecessary stuffiness.

Sometimes it's good to mix pleasure with business.