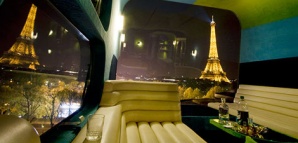 It's the rare hotel that has an itinerary rivaling your own.

Hotel Everland, created by Swiss installation artist pair L/B, has only one suite—a bright green pod with picture windows and funky futurist decor. Why so small? Portability. The self-contained capsule is totally mobile and has been taking a Euro trip of its own, paying a visit to Lake Neuchâtel (Switzerland) and landing on the Museum of Contemporary Art in Leipzig (Germany). Its final stop? Paris, where it'll spend 2008 perched 30 meters above the flowing Seine, atop the modern art space Palais de Tokyo.

It doesn't get more exclusive than a one-room hotel, but the Everland has the quality to match, with a mosaic-tiled bathroom, golden-embroidered towels (that you're encouraged to steal) and a waitered breakfast. With no curtains, you'll see the Eiffel Tower from your king-sized bed. Put on an LP from the in-room collection, pour some bubbly from the fully stocked mini-bar and bask in the City of Lights...

Don't get too comfortable, though—the in-demand room opens to exhibition by day, and each guest can only book one night.

All the more reason to make your one night count.