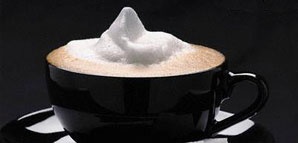 Some say life's two great inevitabilities are death and taxes—but you'd also single out coffee and, well, a gentleman never tells.

As for the coffee: LAMILL Coffee Boutique officially opens today.

Even if you weren't already familiar with the company's impeccably sourced beans, you'd immediately know you're far from chain-store caffeine land thanks to the sizable chandelier and one-of-a-kind La Marzocco brass espresso machine. (It monitors temperature 100 times per second.)

Instead of ordering a house blend to go, you'll choose a latte with milk specially pasteurized to retain sweetness, or a French press, or pullout your ID for Coffee and a Cigarette—an unusual concoction of espresso and house-made tobacco whipped cream served at your table on an acrylic pedestal. If you've kicked the habit, try Coffee and a Doughnut. Trust us.

Culinary accompaniments like a Citrus-Currant Scone are tasty if expected. But the boutique's collaboration with Providence chef Michael Cimarusti also means restaurant-y options like an Oeuf en Cocotte with Dungeness Crab, Tomato and Scallion Lemon in the morning, or a panini made with El Farcell, a Spanish cheese washed with coffee as it ages, for lunch. Soon you'll find a Barista's Table, created especially for paired tastings.

All that gourmet caffeine should provide plenty of energy...for life's other great inevitabilities.