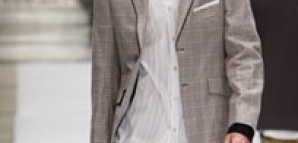 You're always game for a good-looking Danish import.

Whether it's Helena Christensen, Bang & Olufsen or their eponymous pastry, the Danes have a history of foisting their Scandinavian attractiveness on us.

Next up for the foisting: Bruuns Bazaar, a popular Danish clothing line that has been alarmingly absent from our shores—until now. Starting January 15th, the Bruuns spring men's line will be available in the U.S. at one store, and one store only: ClearlyFirst, an import-minded UES store with a knack for stocking some of our favorite brands.

While you may not have heard of Bruuns, the Danes have made the brand a household name for their habit of creating shirts, pants, sweaters and jackets with clean lines and enough personality to stand out—but not too far out—from the pack. All of the garments—including slender dress pants, staples like button-downs and outerwear like the spring trench coat—are made with high quality raw materials (mercerized cotton, high twisted yarns) and an attention to detail that you'll notice immediately.

In addition to the new spring line, ClearlyFirst managed to procure a limited supply of Bruuns button-downs and v-neck sweaters.

Think of it as a fashionable way to postpone your trip to Copenhagen.