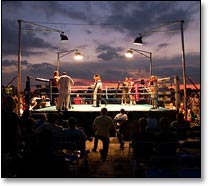 You spend the day wanting to kick some ass.We're not talking about yuppie office backbiting, we're talking about giving that stuffed shirt across the conference room table a haymaker when he tells you your next meeting's at 8 a.m. in Cleveland on Labor Day.
Fortunately, you can do something slightly less felonious by going to Thursday night's
Rumble on the River
, an outdoor boxing event where the best amateur boxers in the city (registered and serious amateur fighters) take turns beating the crap out of each other while vendors sell cans of Coronas, a DJ pumps out
AC-DC
's Thunderstruck and girls in short pants present round cards and provide rousing half-time shows.
Located at the picturesque Pier 54, the vibe is
Fight Club
meets
Bloodsport
with a slice of
Wall Street
, and the crowd ranges from die-hard boxing fans to dedicated boozehounds, buttoned-down bankers to downtown hipsters.
Sure, the business world won't let you engage your enemies in combat...but even if you can't get in the ring, at least you can have a beer on the pier and picture your nemesis face-down on the canvas. Stress relief just might be spelled R-U-M-B-L-E.