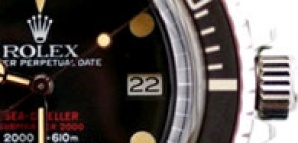 In a small, unkempt store a block up from the Manhattan Bridge is a guy you're going to want to know. You're not going to need him every day, but you'll take comfort knowing that he's there.

His name is John Criscitiello, and if you need a rare, antique or collectible watch, chances are he's got it. And if he doesn't have it, well, finding the impossible is his specialty. He came across our radar screen when we heard he had an original prototype Rolex Sea Dweller, a model issued to divers for testing 30 years ago. There were only 50 prototypes made, and one of the others just pulled in 135,000 Swiss francs at an auction overseas.

Beyond watches, his lair is filled with curios, oddities and expensive charms from all over the world. So if you're after a little bit of currency—and aren't we all—ask for the $5000 dollar bill that found its way into the shop recently. (It's James Madison for the curious.)The bill is so rare that trade mags don't even bother listing a price for it, although we're sure we could come up with a lower limit.

After all, there's nothing quite like old money.