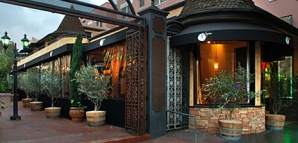 Sometimes Hollywood dining can be about substance over scene.

Really.

Exhibit A: Melograno, the under-the-radar Italian restaurant that has opened quietly in a Hollywood courtyard.

Upon entering the refined but casual space, you won't find pulsing lights or blistering techno or any of the other usual benchmarks of dining within steps of the Walk of Fame. The room (and by room we mean corridor) is unadorned but for three simple light fixtures that illuminate bare white walls, exposed beams above and dark wood floors below. (The bar at the back works for an aperitif, but you'll likely want to avoid the courtyard patio for now—at least until the summer months, when you start to crave that first alfresco meal.)

The simplicity of the space puts the focus on the quality of the food. The emphasis is on seasonal ingredients, and the menu is still evolving, but you might discover a Tarta' di Verdure e Fonduta al Tartufo (warm vegetable tart served over Fontina cheese), Gnocchi d'Ortica al Burro eSalvia (potato and nettle dumplings with butter and sage) and PerchiaStriata al Forno con Funghi (black sea bass with seasonal wild mushrooms and sweet vermouth wine). The chef is from Piedmont, though you'll more likely recognize him from Il Moro or Piccolo.

Neither of which have employed blistering techno.