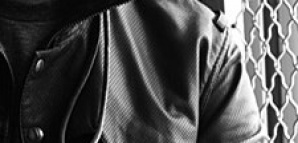 Street cred is something you have to earn. Usually.

Hailing from the mean streets (and private schools) of Westchester, Sean "Diddy" Combs sells people on his street cred by hiring bona fide New York City kids to design his clothes for him, appropriating their urban angst in the process. But Dao-Yi Chow, the former creative director of Diddy's Sean John line, decided he'd be better off doing his own thing, which is what we call real street smarts. Chow and Maxwell Osborne, a fellow veteran of both Diddy's design studio and the dog-eat-dog New York City public school system, launched their own label—aptly titled "Public School"—in two short months on "pure instinct."

It's an instinct that has served the two men well since their school days, and it translates here into rugged, multi-purpose garments that manage to fuse attitude with attractiveness and attention to detail. Their signature piece for Spring/Summer '08 is a faux-layered embroidered-leather jacket with a cotton hood, chevron detailing and hidden pockets. Some items are branded with a black apple and feather logo, signifying both rebellion and a thirst for knowledge. "We hold a sword in one hand and a pen in the other," is how the duo themselves put it.

You should just put it on.