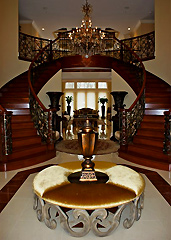 You've been thinking about throwing a dinner party. You should.
You've been thinking about buying some new clothes. You should do that too.
You've been thinking about rearranging the furniture, painting the walls, investing in some new artwork. Okay, at this point: just outsource.
Introducing
AK Lifestyle
, your new apartment decorator/party planner/personal shopper, ready to fluff your pillows right now.
Think of them as Charlie's Angels for getting your apartment in shape. (In this scenario, you're Charlie.) You set the mission. They get it done.
You'll start with a simple interview. Tell them about your design sense. About how you always thought Magnum, P.I.'s Ferrari would work well in the bedroom. About that third-century hand-carved oak table you dined at during your week at that Bavarian monastery. A few phone calls later, and Sherpas in lederhosen are hauling it down a mountainside for you. And your headboard has an airbag installed.
And since a table like that demands a dinner party, AK sidelines in private party planning. A few more calls, and a private chef will be stuffing your friends with gourmet schnitzel.
And since schnitzel like that demands a proper wardrobe, AK does a little sidelining to its sideline, hooking you up with fashion stylists and tailors to help you revamp your party attire.
Though you've always been able to handle your own lederhosen.