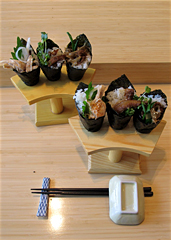 There was a time, not long ago, when you had your favorite sushi counter. And, across town, your favorite steakhouse. And the two, regrettably, never mingled.
Well, things have just gotten more efficient for your appetites, because now you can get your meat fix
at
your sushi bar.
All hail the arrival of
Meat Maki Rolls at Kushi
, the best thing to happen to sushi since, well, fish.
Already getting big in Japan (just like your banjo-metal power trio), this concept is best thought of as sushi by way of Nebraska.
Your sushi chefs have been anticipating your arrival, simmering beef and chicken, and yes, braising pork belly. When you arrive, they'll take strips of the tender meat, kissed with soy mirin, and roll each of them up with vinegared rice, nori and maybe a few sprouts, scallions or sour plum. The result is an unmistakable hit of salty goodness (the seaweed), followed by some unexpected earthy, savory... meatiness. (You guessed it: the meat.)
You should also know that these rolls aren't on the menu—at least, not until next week. This weekend, you'll have to ask for them by name, with a knowing nod to the chef.
Besides, you can't get wasabi at a steakhouse.