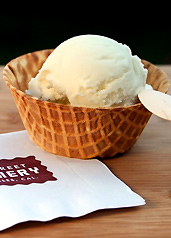 Pancakes are perfect. Donuts are perfect.
And yet... you've always thought they should be reimagined as ice cream flavors.
Good news: now they have. Allow us to introduce the
Lake Street Creamery Truck
, launching this Saturday with some truly forward-thinking ice cream technology.
Once you've
found the truck
, the first thing you'll want to do is
survey the menu
. At the top of it you'll see
Donut Ice Cream
, a barrage of smooth scoops that contain donut-infused milk. There's also the
Pancake Breakfast Ice Cream
, with maple syrup, bacon bits and coffee. Or if you like your cold stuff hot, ask for the
Aztec Sacrifice Ice Cream
, a chili-spiked chocolate concoction.
Whatever scoops you order, they'll come in a waffle bowl—because it's better for the environment if you eat your dishware.
And if you're more in the mood for an ice cream-rich beverage, you can have them throw that donut ice cream in with some black cherry soda to produce a
Jelly Donut Float
. Or they'll drop the donut ice cream in some iced coffee for a
Coffee & a Donut Float
.
No word yet on the Lumberjack Breakfast Float...