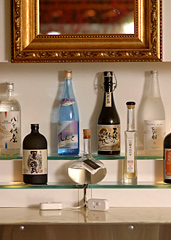 Today's topic: total immersion. No, we're not talking about a Southern-style baptism. Nor that time when you spoke only Farsi for two months.
No, we're talking... about drinking. The kind of immersion that introduces you to a rare form of booze from halfway around the world, then sits you down in front of 36 rare examples of it, and it only.
Presenting the new
Shochu Bar at SEI Restaurant and Lounge
, here to show you the next great Japanese imports (as if the cherry blossoms and the Walkman weren't enough).
You know this place as an all-white pan-Asian lounge in Penn Quarter. Now, it's done away with most of its vodkas, bourbons and the like... no, stay with us... and devoted its entire display to rare Japanese shochu—a clean, clear liquor that's Japan's answer to vodka.
But—as befitting the culture that brought you karaoke and
Donkey Kong
—there's a twist. You see, it's distilled from all kinds of stuff you never thought you'd chill and sip (black sesame seeds, sweet potatoes) and some stuff you would (lemon peel, barley aged in bourbon casks).
So while sitting at one of the bar's alligator-embossed, white-leather stools, you'll flip through the five-page shochu list. If you're still feeling overwhelmed, try one of the flights, grouped into helpful categories like "Fragrant" or "Scotch Lover's."
Hey, that's you.