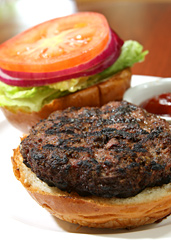 There is a legend.
It involves burger meat. That's delicious.
And this legendary, delicious burger meat has never—we repeat: never—been seen in California.
Until now.
Prepare yourself for complete and utter burger mayhem—
Pat LaFrieda Beef
has come to Burger Kitchen.
You'll want to get over there, pretty much right now, for the Kitchen's new $29 eight-ouncer called
The Natural
. The patty's made with a 40-day dry-aged blend that includes short rib, steak and brisket, and you won't find it anywhere else (not even on the Lower East Side). It comes on a brioche bun, with Camembert or white cheddar if you want it, but your first juicy bite should just be burger and a slight scrape of fork. Trust us.
As for the backstory: Pat LaFrieda has been an NYC institution for more than 90 years (that's three generations of Pats) and claimed many national burger championships. Not just anybody can get their hands on this beef, but supposedly Pat #3 liked that Burger Kitchen is also a family-run enterprise... whose patriarch wouldn't take no for an answer.
So beyond that $29 showstopper, there's also a LaFrieda Kobe option for $17, and any of the menu's 36 burgers can be upgraded to the LaFrieda house blend for an extra two bucks.
Go ahead, upgrade.