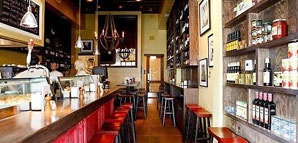 Barcelona's great, but you do have to work on Thursday.

Luckily, Bar Pintxo—anew tapas bar from Joe's proprietor Joe Miller—opens Wednesday night in Santa Monica. Which should save you the jaunt to Barcelona.

You'll see a sign in the window capping the maximum occupancy at30 people, and when you step inside the compact space littered with black-and-white photos of Spanish Lolitas, you'll see that the number is not overly conservative. There are just a few tables at the back, but you don't need them anyway—after pulling up a stool for your date, you'll want to standat the bar.

And by "bar" we mean "kitchen"—once you've commandeered your counter space, you'll point out chilled items like Grilled Shrimp with Piquillo Pepper, Tomato Conserve, Yogurt and Caviar(Joe's recommendation) or Bacon-Wrapped Dates with Cabrales Cheese (our pick). In a few weeks, expect cooked-to-order hot specials to be displayed on the chalkboard above the stove.

Of course, by "bar" we also mean "bar." About 65 wines are offered by the quatro (a third of a liter), half-bottle or the whole. (Just pull a bottle from the wall, if you like.) No matter what you order, you two can expect to be surrounded by a cadre of your favorite Spanish expats.

Or 30 of them, at least.