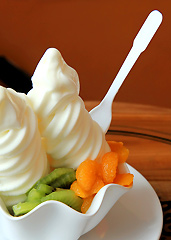 Frankly, the food truck scene could use some real excitement.
You're thinking self-serve froyo, and maybe the occasional fleet of leggy Brazilians.
Ladies and gentlemen,
The Big Swirl Truck
is officially upon us... and you won't be able to miss it.
Think of yesterday's
Korean fried chicken
as this week's entrée, and this as your dessert. When you're in the mood for something cool and refreshing, you'll step up to the side of the city's first self-serve froyo truck, where dispensers await with 10 rotating flavors. It's your chance to create a (nondairy) masterpiece for five bucks with flavors like Nutella, pistachio and blood orange. (Mmm, Nutella-pistachio-blood-orange sundae.)
But this is less a truck than a full-on mobile party. They've installed flashy lights and a mother of a nightclub-worthy sound system, and they're happy to deploy a troupe of Brazilian dancers to liven things up. (We highly encourage this option.)
So though you might see this thing on the streets now and again (pay attention to the Wells Fargo building next week), their real specialty is events. This is going to be your new way to cool down at this summer's music festivals, farmers' markets... and maybe your next barbecue blowout.
Trust us, the neighbors won't mind...