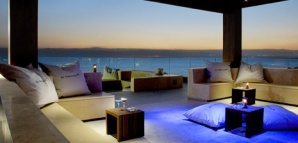 Moses had his Promised Land. But just across the Dead Sea...here's yours.

Ever since biblical times, year-round sun and mineral-blue waters have made Jordan's beaches a sought-after retreat—so the Kempinski Hotel Ishtar has been millennia in the making. In the midst of a three-stage opening, the resort combines old-world Arab style (it's loosely modeled after the Hanging Gardens of Babylon) with hyper-modern indulgence. Dotted with olive groves, waterfalls and infinity pools that fall off into the salty sea, it spans the longest private beach in Jordan; and at the lowest point on Earth, the super-oxygenated atmosphere both recharges you and lights up a spectacular sunset.

While the secluded Ishtar Villas opened last year, the 318-room waterfront hotel launched just this summer. And the Anantara Spa, slated for unveiling in February, will be the largest in the Middle East—with 20 private rooms, Hammam baths and an "ice cave" immersion. (Just what the desert needed.)

To go all-out Herod-style, spring for the Royal Villa: The 1,600-square-foot palace includes your own infinity pool amidst the private gardens, a touchdown-to-takeoff chauffeur, a personal butler, an en-suite massage the moment you walk in the door...

Everything to live it up in the Dead Sea.