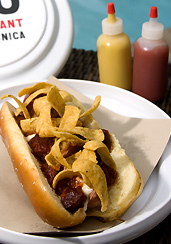 Listen, today we're just going to throw out some important key words.
Pool. Sun. Gin-spiked lemonade. And... hot dogs.
Introducing
The FIG Hot Dog Cart
, now poolside at the Fairmont Miramar Hotel, just steps from the ocean.
You already know all about the
hotel's acclaimed restaurant, FIG
, and that's great. Really. But when you want to fuel up before the beach this weekend, you need
something a little less... restaurant-y
.
Preferably in the form of a gleaming silver hot dog cart, which you'll now find by the hotel pool every Friday, Saturday and Sunday for the summer—that's where to get your signature
FIG Dog
with cheesy Comté fondue, Fritos and bacon-habanero marmalade on a sesame bun. Or there's the rather astounding
Taco Dog
, topped with guac, slow-roasted carnitas, creamed rajas, homemade escabeche and radish. (The only thing missing is a taco shell.)
You can also build your own masterpiece with toppings like
Nuclear Relish
,
Steak Chili
and
Chorizo de Bilbao
, probably with some
Housemade Sea Salt Chips
. And for three bucks extra, you can get it served on a keepsake Frisbee—as all meals should be.
Technically, the pool is for hotel guests, but anybody's welcome to come by for a dog and a round of
Cucumber Lemonades
(there's gin) or
Pineapple Mosquitoes
(there's vodka) before a stroll over to the beach.
Just wash the Frisbee first.