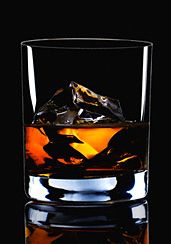 Whiskey. Shotguns. Golf carts.
The last time you mixed all three together, Hunter S. Thompson was involved and you ended up swearing off golf carts forever.
But forever is so rarely forever, and we've met some folks who might be able to persuade you to get back on the four-wheeled electric pony.
And they're providing the requisite supply of guns and booze.
Introducing
Shootin' & Drinkin'
, your chance to drink a curated selection of handcrafted New York State whiskeys and incinerate clay targets launched into the sky for the sole purpose of destruction.
The day of martial play starts early. You'll be whisked away from Manhattan via van and driven to the wilds of the Catskills, where things will get very
Dirty Harry
, very quickly. An expert marksman, fluent in both English and American-style gunmanship, will introduce you to the basics of your new 12-gauge, and thus the day will begin...
After a brief warm-up, you'll slide into your waiting all-terrain vehicle (the aforementioned golf cart) and direct your driver to your choice of shooting platforms positioned throughout the range. Choose an easy one at ground level while you get your footing. Then advance to one of the platforms perched in the trees, where you will unleash holy hell upon target and foliage alike.
When every shard of clay has been reduced to a fine mist, you'll be chauffeured to Tuthilltown Spirits, where you'll spend the rest of the day sampling bourbon at New York's first legal whiskey distillery since Prohibition.
Which is when guns first met liquor.