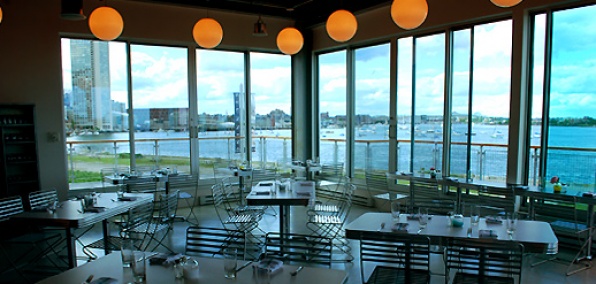 Shopping can be hard work.
The crowds. The salespeople. The too-tight chinos.
After a good 30 minutes of browsing, you could really go for a drink. And some pork ribs.
Introducing
Sam's
, the new grossly over-windowed bistro above Louis Boston, ready to ease your clothes-hunting burden as early as this weekend.
This, in short, is the anti-food court: a large restaurant, with a 10-seat bar, perched at the water's edge, churning out an
impressively non-mall array
of small plates and entrées, but not so fancy that you can't get a burger with Vermont cheddar and fries for $12.
So you'll arrive here after doing a little shopping downstairs at Louis—you'll see the stairs for it right as you walk into the store. Or perhaps you'll want to drop off the more clothes-minded person in your life in the shoe department, and head up to the bar to cool your heels with an apple-juice-and-vodka-mixed
Narcissist
(we're sure it wasn't named after you).
Or if you're really feeling sartorially satisfied, the two of you can skip the button-downs and blazers entirely and head straight for the wraparound outdoor patio, whiling away the afternoon over panoramic views of the harbor and Island Creek oysters at $1.50 a pop.
This is something you just can't get at Sbarro.