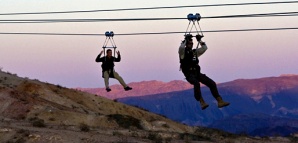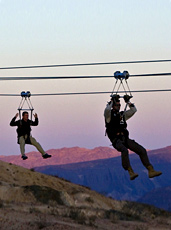 You just came off a three-day tequila-and-adrenaline bender, someone named Tito is texting you about horse racing, and you may or may not be wearing a Bellagio dealer's uniform. Now might be a good time to get some perspective.
Our suggestion: take yourself higher.
Introducing
Bootleg Canyon Flightlines
, a zip-line tour of some of the most spectacular non-penthouse views Nevada has to offer, available now.
It's basically a low-tech roller coaster ride down a desert mountain. Just get your hands on an old DeVille convertible and head out into the desert—just drive until you see a network of cables running down the side of Red Mountain—and get ready for the rare thrill that doesn't involve a rooftop pool or a baccarat pit.
You'll take to the wires strapped into a paragliding harness, so you'll be able to reach highway speeds (up to 65 mph) without worrying about your grip. There's a little hiking involved to get to the top, but otherwise you'll just be spending two and a half hours making an aerial survey of the noticeably neon-free surroundings, including Lake Mead, El Dorado Valley and a few hundred miles of scrubland. If you catch the right angle, you can even see the wonder that is Las Vegas... safely in the distance, of course.
Tito will get by without you.