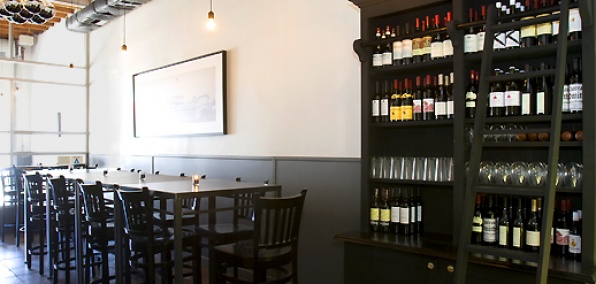 Fact: every neighborhood needs a nice little wine bar.

Another fact: this week our city grows closer to that important goal.

Just off a Sunset Boulevard sidewalk on a Prohibition-dry patch of land, a new go-to is born—Vintage Enoteca opens tomorrow.

There are two important things you should know about this wine bar: first, it's the kind of place that's open for coffee and bagels in the morning, and sandwiches at lunch—to go or to stay. The wine comes a bit later.

And second, there's no actual bar here—it's a tiny spot with a couple rows of high tables, packed together so you get to know your neighbors pretty quickly.

Ideally, you'll want to show up around sunset for a table by the windows, and summon a Spanish Grilled Cheese with Chorizo and Blue Crab Bruschetta.

The wines are eclectic, with seven or eight whites and reds by the glass and about 10 of each by the bottle. And there's also beer, like San Diego's Green Flash IPA.

So don't let the missing bar fool you...