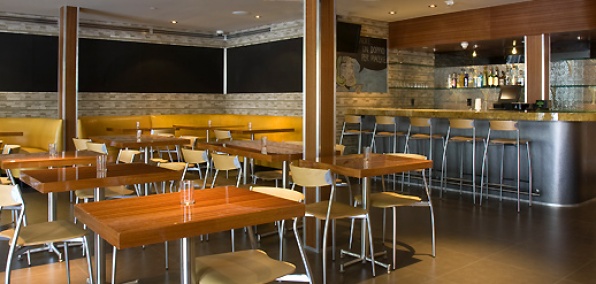 So—enjoy the long weekend. Really. You don't have to worry about a thing.
Because when you get back, a sleek new morning-till-night hideaway awaits to handle all your summer needs—from French toast to happy hour to midnight lasagna. Introducing
The Olive Kitchen + Bar
, opening Tuesday night on the Sunset Strip.
You'll find it tucked into the Grafton Hotel, where BOA lived for years until
its westward expansion
, and you'll want one of the buttercup-yellow leather booths to the left. It'll work for a coffee date, a casual client lunch or a fuel-up dinner before Skybar next door. Plus you're directly between the two small bars, so you'll feel right at home.
To sober up in the morning, summon the
Cinnamon-Raisin Bread French Toast
—and to banish that sobriety later, start with
Watermelon Margaritas
(happy hour's from 5 to 7pm) before your made-to-order
Baked Lasagna Bolognese
or
Wrapped Pancetta Prawns
. The vibe's easy and come-as-you-are, just like its sibling spots (The Spanish Kitchen,
The Oaks
).
And if you find yourself in need of discretion for some reason, there are two hidden tables tucked into the small patio out back, overlooking the pool.
You're in a hotel. These things happen.