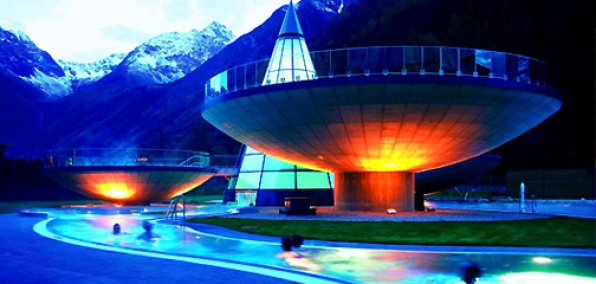 It's that time of year.

Behind you: a season of sloping, slaloming and après-skiing in the Northern Hemisphere. Ahead of you: a season of sloping, slaloming and après-skiing in the Southern Hemisphere.

But right now, you can indulge. Our suggestion: a steam. Ideally in Austria. And totally naked.

Which brings us to Aqua Dome, Austria's finest naked-only spa, open now for your après-ski relaxation in the ski resort town of Längenfeld.

We'd say it's clothes-optional if, in fact, clothes were optional. But they're not—nudity is mandatory, so leave your clothes at the hotel (or, you know, in your car) upon entry. It's nestled inside the Gletscherglühen Sauna, where you'll be greeted by signs extolling the benefits of nakedness—cleanliness, coolness and tradition—while skipping the most obvious: naked Austrians. (We're thinking Eastern European models, not Schwarzenegger.)

Once de-robed, you'll have 2,000 square meters (and seven different smaller saunas) to explore. Our favorite: the light- and speaker-enhanced Canyon, where you'll be able to relax to light shows and soundtracks ranging from Mozart (the local favorite) to "thunder and lightning." (It's like the planetarium, but naked-er.)

You'll also have your choice of glacier water pools, including the Ice Grotto lined with fresh mountain powder (in case you're still feeling the itch). And then there's your final stop: a 95-foot shower equipped with waterfall, tropical rain and fog modes.

You haven't showered until you've showered in fog mode.