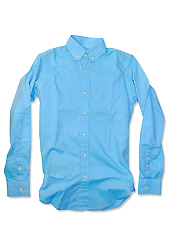 You can smell it.
Three more days, and then it's Friday. And then it's summer. And then...
You don't need us to tell you what happens next. But allow us to suggest what you might consider wearing when it does.
Introducing
Baron Wells
, a new line of beach-ready summer attire, available for your beach sitting, beach combing and/or beach volleyballing needs now.  
Basically, it's the sartorial equivalent of one of those bumper stickers that says "I'd rather be surfing," probably because the line itself is the brainchild of a surfer who earned his stripes on the mean waters of the Jersey Shore. (Yes, that old story...)
So, naturally, you'll start by considering the "sea pant"—swim trunks cut to a length known to connoisseurs as "not too baggy but not a banana hammock." Not that the line's for seafaring only—you'll find the kinds of colorful button-downs and ties you could wear to the office. (Possibly worn with a swimsuit, if you work near the ocean.) Each shirt's front pocket is perfectly shaped to fit a certain Apple-made cell phone inside, though that does require putting your phone in your shirt pocket.
And should you find yourself in need of a little last-minute summertime inspiration, head to the line's website, where you'll find dozens of prints of seafaring scenes (including some with Hemingway himself), screen printed by one of Warhol's acolytes.
Which explains why Hemingway is holding a Campbell's soup can.