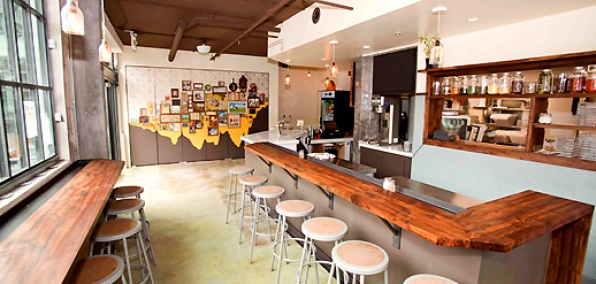 Today, we need you to focus.

In fact, we think we can help. So here goes...

Bread. Butter. Lots of cheese.

And you're golden.

Introducing American Grilled Cheese Kitchen, the city's new temple of grilled cheese, opening this week for lunch in South Park.

Brought to you by a seven-time winner of the Grilled Cheese Invitational (which, evidently, exists), this place is devoted to simplicity—buttery, caramelized bread, with an oozy, melted center. By house rules, each sammy must be at least 60% cheese. (We think you can abide by those rules.)

The menu's seven sandwiches deep. Your options include a basic three-cheese Mousetrap and a spicy Jalapeño Popper, made with bacon and apricot-jalapeño relish. But we say go for the Piglet—it's your basic ham and cheese, if your basic ham and cheese had been tastefully slathered with apple mustard and rosemary butter.

If you come back in June, they'll be open for weekday breakfast, starring this year's Invitational winner: the Sunday Brunch—brie and berries on challah French toast, with ham and bourbon butter. (You've noticed your butter could use more bourbon.)

Before you go, be sure to pay homage at the epic mural on the joint's wall—it's made with vintage wallpaper, old photos and latex paint that looks like melted cheese dripping to the floor.

Again, we need you to focus...