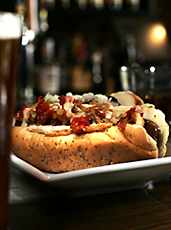 Even in a city with a virtually limitless array of dining options, some dishes are way too good to miss—they demand immediate consumption. Our feature "Served Up" gives you the lowdown on a standout dish in the city. Dig in.
It's a balmy summer evening in our fair city.
Happy hour is fast approaching, and it's time to start thinking about some cocktailing.
An Old Fashioned arrives. Then another. Tales are spun, new prospects emerge, and before you know it, you're unwillingly approaching full-on shenanigan mode.
Then it hits you... You forgot something.
Whiskey: 1. Dinner: 0.
Enter
The
Haute Dog
, a stroke of deep-fried, bacon-laced hot dog genius (even if it
is
called the Haute Dog), unleashing its late-night fury tonight at the Iberian Pig.
It's basically what would happen if you gave Mario Batali a few too many martinis and told him to "create." The result: an oversize hot dog, wrapped in applewood-smoked bacon, deep-fried (you heard us) and topped with a manchego cheese sauce, crispy shallots and spicy red pepper aioli in a freshly baked poppy seed bun.
As can be expected from a culinary swan dive of this magnitude, there's a caveat or three. It's only available after 10:30pm, it won't be found anywhere on the menu, and when they're gone, they're gone. Oh, and a bit of advice from the inside: if you even think about requesting ketchup, you may as well escort yourself off the premises.
The rules of hot dog engagement are clear.