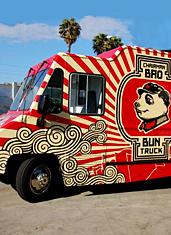 The dim sum cart is a technicalogical and culinary marvel that we fully support.
Still, we can't help but think a little horsepower might change the game...
Introducing
Chairman Bao
, your new go-to for the sort of steamed and baked buns you'd find on the other side of the Pacific, rolling out in food truck form today in SoMa.
Brought to you by bun-happy minds from Pacific Catch, these Chinese delicacies normally reserved for Sunday mornings have now graduated to your lunchtime rotation.
Think of the truck—designed by a DC Comics artist, with bright red rays and an oversize panda in a Mao uniform—as a superhero working for world (or at least San Francisco) dim sum domination. They'll be parked in the lot off Seventh Street, so you'll want to drop by for lunch. When you get to the window, resist the temptation to order all 12 variations, because these overstuffed little Asian sandwiches are deceptively filling.
First, choose the bun—baked or steamed. We like the baked, not only for the slight glazy sweetness, but also for the added surface area that offers extra room for toppings like braised pork belly, lion's head meatballs with kimchi and the five-spiced duck confit.
If you get there on the early side, try the more breakfasty
Chinese Sausage and Egg
, which would also serve well as a midnight snack when they start doing late-night bar rounds in a few weeks.
After all, it'll be breakfast somewhere.