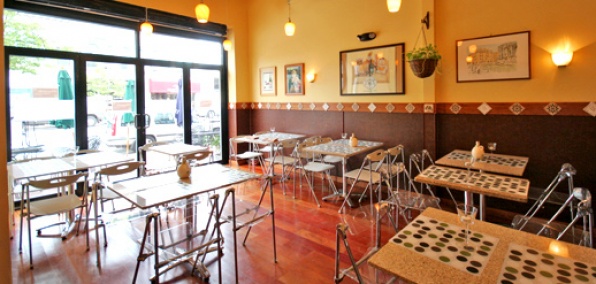 In Italy, people live what is known as
la dolce vita
. Life is simple, easy, sweet.
A cappuccino in the morning. Then maybe a crisp little pizza for lunch with friends. For dinner, sharing a bottle of Chianti over a plate of lasagna made from an age-old recipe. Everyone there does it.
Wait—that's not Italy. We meant Evanston.
Welcome to
Donatella Mediterranean Bistro
, a Tuscan-yellow cove of pasta, red wine and the occasional escargot, opening this Monday.
Yes, the Donatella here happens to be the Roman goddess behind that sorely missed little Howard Street spot, La Cucina di Donatella, so you can be sure that
your Truffle Pasta
will be up to your al dente standards.
This will be the perfect escape when you want a romantic, simple neighborhood date and—for one reason or another (those reasons are all your own)—you need a neighborhood that just happens to be someone else's. You'll find big windows flung open to let the late spring breeze waft in as you share a bottle of hearty red.
And if you're here for a morning date—and again, the reasons are all your own—you'll find that nothing starts your day like
Nutella-stuffed Italian pastries
, prosciutto and eggs, and a shot of espresso.
But these Italians want you to expand your horizons. So you'll find that there's also
German Pancakes
for breakfast, and at dinner you'll have your pick of housemade
Ragu' Bianco
or
Rotolo
, that escargot or maybe some
gooey Swiss Fondue Buirguignonne
.
No one does gooey like the Swiss.