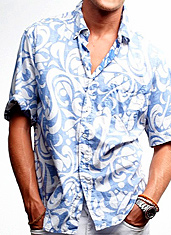 You're hungry for heat.
Especially now that you've had a taste. Those few glorious summer days when rooftop bars didn't need a
roof of their own
.
And surely the sun will return. Eventually.
But you're hungry now. So allow us to suggest a trip to your own private Hawaii of the mind.
Welcome to the reinvented world of
Reyn Spooner
, a somewhat understated retro take on the loudest shirts known to man, available online now and at Bloomingdale's in a couple weeks.
By "understated," we mean the fabric has literally been turned inside out to mute the tropical hue, an invention of Mr. Reyn McCullough himself, who 50 years ago partnered with Spooners of Waikiki and decided to marry Honolulu loud with Eastern prep. The resulting button-down shirts, shorts and board shorts are faded enough so you won't look like a tourist in your own city, but Hawaiian enough to let the world know you believe in a warmer tomorrow.
So never mind the endless expanse of gray that passes for a sky these days. Take matters into your own hands and show up to your next power lunch like you're walking into a luau. After all, it was the founder of Reyn Spooner who in 1966 convinced Hawaiian companies to allow aloha shirts to be worn to work on Fridays. A tradition you may now know as casual Fridays.
Which you know is just a slippery slope to summer Fridays.