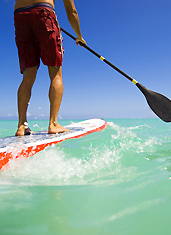 Consider the following. On the great island of Manhattan there are only:
Twenty-six Central Park baseball diamonds.
Five indoor city swimming pools.
Seven interactive video golf simulators.
And 12,467 treadmills (4,567 without built-in televisions).
Which means, when a new form of exercise washes up on our shores, it may forever alter the sporting life of our city...
Welcome to the world of
Stand Up Paddle Boarding
, offering a never-before-had chance to guide yourself down the majesty of the Hudson.
Think of it as a combination of kayaking, surfing and drunken ballroom dancing aboard a Mississippi River paddleboat. And you can taste the post-brunch thrill: the wind in your hair, the sun on your back, the Bloody Mary-fueled joie de vivre, the Hoboken coastline gliding by as you captain yourself upstream.
Of course, a few hours of instruction will come in handy before you depart. For this, we recommend the Wednesday night intro course. Expect the teacher to talk about developing your "kinesthetic intelligence." Otherwise known as balance.
Your goal: to glide over the water, swan-like, touring the harbor, weaving between sailing vessels and generally creating a minor sensation among the attractive joggers on shore. Feel free to wave at them.
It can only accentuate the impact on your core...